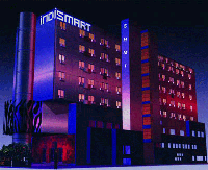 Trainees must attend theory and practical sessions to complete their training. They are expected to attend further on the job training after obtaining their classroom training in order to gain practical experience alongside real colleagues.
COURSES OFFERED:

Accommodation Services
Hospitality Operations Level 1
Hospitality Operations Level 2
Food & Beverage Services
Bar & Beverage Services
Food Production & Cooking Level 1
Food Production & Cooking Level 2
Bakery & Patisserie
COURSE DURATION:

8 weeks including a 2 week on the job training as part of each course.

or


90 hours divided over 4-6 weeks plus on the job training for each course.
CENTRES
:
Smart Edusol will be simultaneously launched from our IIHM Campus facilities in Kolkata, New Delhi, Jaipur, Bangalore and Pune and from our IAM Campus facilities at Kolkata and Goa.
CERTIFICATION:
Each student will be jointly certified by NSDC (a body formed by Ministry of Finance, Government of India), Smart Edusol & IIHM.
COURSE FEE:
Total Course Fee: Rs. 7,000/- per course.
SALIENT FEATURES:
- GLOBAL CURRICULUM
- EXTENSIVE PRACTICAL SKILLS
- CLASSES BY EXPERIENCED INDUSTRY PROFESSIONALS
- INDUSTRY ORIENTATION
- INTERACTIVE SESSIONS
- INNOVATIVE & MODERN TECHNOLOGY USED
- ON THE JOB TRAINING
- JOINTLY CERTIFIED BY NSDC, EDUSOL & IIHM
We are determined to create industry ready individuals able to immediately take up the challenges of our dynamic and fast paced business.
The programmes have been developed by our own faculty in collaboration with our academic partners in the UK and based very much on the National Vocational Qualification, the UK's Industry Standard.