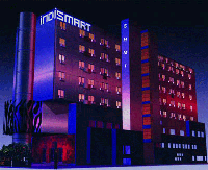 About Indismart Group
Indismart Group is an undisputable brand in the Education & Hospitality sector. Incorporated in the year 1989 the Group is one of the first and foremost private education bodies in India. The Group owns, manages and operates three Hotels, in Goa, Kolkata and New Delhi and two of the best known Hospitality Education providers in India; International Institute of Hotel Management (IIHM) and Institute for Advanced Management (IAM).
The Group is led by Dr. Suborno Bose, a qualified Chartered Accountant with over 25 years of Entrepreneurial experience in India and abroad. Dr. Suborno Bose is a serial entrepreneur and is inarguably the country's best known hospitality educator with the presence of his Institute's major brands like IIHM and IAM Hotel School at New Delhi, Kolkata, Goa, Bangkok, Bangalore, Ahmedabad, Jaipur and Pune.